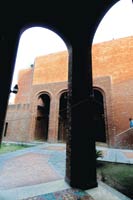 Punjab Café, is a meeting place for writers and intellectuals in the PILAC building complex. The place belies the idea of cafés all over the city. It is rather a low profile with an air of Punjabiat in its ambiance. The café is open to intellectuals and writers who are either amateur or have a name in the literary circle. The tea and snacks, with a limited menu, is on the house most of the time.
If we look into the situation of present day Punjabi, the language is facing similar sort of problem. The only people who truly speak close to genuinely pure Punjabi are the ones mostly residing in the rural areas of the Province. If you belong to cosmopolitan city of Lahore, it is very likely that either you don't speak the language at all–even if you do speak it, it is corrupted. The requirement to speaking pure Punjabi is that you should have no education whatsoever. This is because all the education is either in Urdu or English. As literacy increases further, the future of Punjabi becomes doubtful.
The trick to completely wipe out a language, no matter how powerful, is to stop any kind of written communication in it; and it will slowly die off. This is precisely what's happening with Punjabi in Punjab. There is no written communication in it whatsoever.

The language and people have deep connection between them—whatever culture I have encountered so far—people belonging to that culture feel very passionate about their language. Ask a Frenchman about French, and you will know what I mean. Interestingly, it is exactly opposite in Punjab. The more relatively educated a person is, the more shame that person feels in speaking Punjabi. Speaking Punjabi is considered to be sign of backwardness. The situation has reached such bad level that people can not imagine an educated person communicating in Punjabi. As soon as people become affluent, the first thing they drop is their mother tongue, Punjabi. The only people who speak Punjabi are the ones who have no other choice; they don't know Urdu.
We Punjabis are probably the only people in the world who have such dislike for their own mother tongue.
The situation in other provinces and especially in Sind is completely different—not only a literary tradition of the language is adopted with alphabet, but the language is extensively used by the educated Sindhi elite. The court documents and provincial assembly decrees are issued in Sindhi as well as in Urdu.
It would be too late, unless we realize now, that Punjabi could be a completely dead language in hundred years from now. Although most of us already can not, but it would be disastrous when no one will be able to understand Bulleh Shah, Waris Shah, Shah Hussain and other literary giants of Punjabi. We can not let our future generations have no idea of these literary giants' work; and 700 years of historic literature become a souvenir in some museum. These literary giants of Punjabi wrote their beautiful work to be understood forever.
The provincial government in the Punjab needs to formalize Punjabi with already formalized Urdu in schools. The biggest fear that I notice is that some people think promoting Punjabi somehow undermines national unity. I think it is completely misleading. It would have no affect on Urdu and Urdu will continue to be the language of education and communication. The formalization of Punjabi and education of it in Schools will help people of Punjab understand Punjabi literature and culture better. We need to feel proud of our cultural heritage, not be ashamed of it.
----
YOUR COMMENT IS IMPORTANT
DO NOT UNDERESTIMATE THE POWER OF YOUR COMMENT
Wonders of Pakistan

supports freedom of expression and this commitment extends to our readers as well. Constraints however, apply in case of a violation of

WoP Comments Policy

.

We also moderate hate speech, libel and gratuitous insults.